Phenomenal Golf Products for 2023 Father's Day
These products are some of the very best that have been brought to market so far this year. Whether they are for Dad, or yourself, you both deserve the best!
Sun Mountain is one of the premier golf cart bag manufacturers in the US
Of all the golf cart bags our testing group has been charged with reviewing for the past ten years, without any fear of contradiction, Sun Mountain's C-130 cart bag has no equal!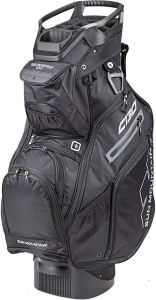 Updated for 2023, the 7-lb C-130, Sun Mountain's best-selling cart bag, was created to work optimally on a cart. This sturdy bag is user-friendly, the quality is outstanding, and you can expect a minimum of 5-7 years of service from the bag.
All features are designed with cart use in mind, starting with the reverse orientation top with three utility handles, cart bumpers, and 14 full length club dividers including a dedicated putter compartment. These full length dividers protect the clubs and prevent the migration of club shafts.
The Smart Strap System attaches the bag to a riding cart with two Velcro® straps which stops the bag from twisting and allows better access to the bag pockets. Also included is a convenient, roomy, velour-lined rangefinder pocket with a magnetic-closure. In addition, the pockets consist of two full-length apparel pockets, a ventilated, cooler pocket, a range finder pocket, and two velour-lined pockets, one of which is water-resistant forward-facing and accessible when the bag is on a cart. For 2023, Sun Mountain added an additional velour-lined pocket and streamlined the top. A matching rain hood is included.
$289.00
This top-selling golf bag also has a supercharged version which includes a portable power pack capable of charging a mobile device.
The Supercharged bag (not shown – https://www.sunmountain.com/products/2023-c-130-supercharged-cart-bag?) comes equipped with a Philips Power Bank 10000 mAh, a lithium ion battery capable of powering a portable music speaker or charging a phone.
The power pack has two USB ports, one standard and one rapid-charging, allowing the recharging of multiple devices at the same time.
Stored in an internal pocket, the Phillips Power Bank plugs into a USB port wired into the apparel pocket of the bag. Your device is then plugged into the bag's external port.
Available in eleven different color combinations with a matching rain hood included.
$299.99                      www.sunmoutain.com
Bushnell Wingman View – Bushnell Golf, makers of the #1 laser rangefinder on the PGA Tour, have introduced their newest iteration of the popular Wingman GPS Speaker – the all-in-one device, Wingman View.
The redesigned Wingman View remote allows you to get GPS distances, adjust volume, change songs, play sound bites, and 1st tee introductions. The Wingman View includes a built-in USB port for charging other devices and offers outstanding sound.
Get audible distance readings, from 36,000+ courses worldwide, through the Wingman View by simply pressing the remote button.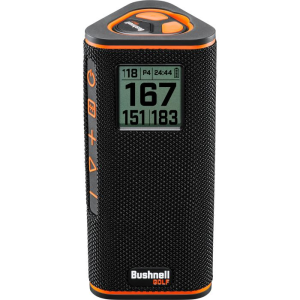 The Bushnell Golf app provides additional product benefits, information and data to further help improve your game, as well as access to easily be able to update your GPS device (for 2021 GPS products and beyond).
There is a rechargeable Lithium Ion battery providing power to the unit.
The Wingman View features the same outstanding sound quality you've come to expect from Bushnell Golf, with a new easy-to-read LCD screen that provides visual distance and music information.
Wingman View features Bushnell's franchise feature BITE magnetic mount that allows you to easily attach the Wingman View right on the cart bar.
The rechargeable battery of the Wingman View is long lasting and provides up to 10 hours (2 rounds of golf typically) on a charge.
The Bushnell Wingman View comes with a One Year Limited Warranty.
$199.99                    www.bushnellgolf.com
Bushnell Tour V6 Shift Patriot Pack Laser Rangefinder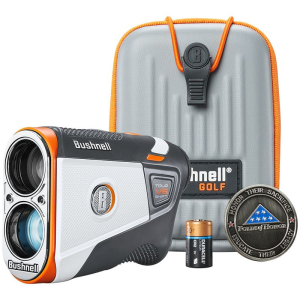 Bushnell Golf, the #1 laser range finder in professional golf, has once again taken accuracy and consistency to a new level with the new Tour V6 Shift.
Utilizing new and improved electronics, the Tour V6 and Tour V6 Shift are the most accurate, consistent, and longest ranging Tour Series Lasers that Bushnell Golf has ever released.
The distance range is 5 – 1,300 yards (400+ yards to flag) with a 6x magnification and bright, clear optics. The improved PinSeeker JOLT technology further enhances Bushnell's status as the leader in laser range finders.
Easily toggle in and out of the patented Slope function. Slope compensation calculates and adjusts yardage depending on the slope. Switch it on to utilize Slope and get compensated distances around the course; Switch it off for a USGA conforming device that is legal for tournament play.
BITE magnetic cart mount easily attaches the Tour V6 to a cart bar
Bushnell golf app displays distances, hole layouts, and 3D flyovers
Patriot Pack Includes: 1 CR2 battery and carrying case
$399.99                              www.bushnellgolf.com  
 Tour Edge
Tour Edge's David Glod is a club designing master craftsman who introduces amazing golf equipment that both pros and regular golfers love to play.
His Exotics and Hot launch brands are extremely popular on the Champions Tour and have also garnished 36 spots on Golf Digest's Hot List over the past six seasons.
Many golfers, especially the higher handicappers, will love the E523 fairway woods series. These are definitely easier to hit than irons and the sound of a well struck ball is music to one's ears using the E523 clubs. These 17-4 stainless-steel fairway woods have Tour Edge's famous Houdini Soles. The Houdini Sole includes an area of mass, concentrated on the trailing edge of the sole of the clubhead, as well as a curved leading edge under the face.
This unique and patented design creates more area to put extra mass, allowing Tour Edge engineers to precisely position weight in the head for an ultra-low and deep Center of Gravity, optimizing launch conditions and greatly improving stability.
The offset design of the E523 Fairway, added with a heel sole weight, allows the face to square up at impact for straighter ball flight. The strategically placed heel draw-bias weighting of the E Series offset designs are engineered to help golfers avoid the right side of the course and to increase launch.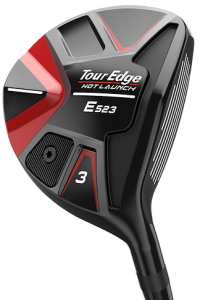 Offset designs are combined with a heel sole weight to provide the ultimate in slice fighting technology.
The E523 series features Tour Edge's Diamond Face VFT technology which is a breakthrough in face technology that features 39 different thick and thin diamond shapes, or "mini-trampolines" behind the face.
Diamond Face VFT produces a hotter face with faster ball speeds and better performance on off-center hits, as well as reduced spin.
The super-shallow Cup Face designs in the Hot Launch E metals are designed for extreme playability and high-flying launch characteristics.
These shallow faces produce higher launch angles and extreme ease of launch with extreme forgiveness.
The E523 series uses the UST Mamiya HL-SST shafts which feature Stabilized Shaft Tech, a softer tip, and a mid-range flex. Stabilized Shaft Tech is an added cross weave that reduces ovaling for better stability during the loading and unloading of the shaft.
Available in #3, 5, and 7 lofts.  Women's length -1″. Custom fitting options include: grip, shaft flex, and length.  A head cover is included.
$169.99                                   www.touredge.com 
Footjoy Hyper Flex Carbon
In my opinion, this shoe is and should be rated in the top three of FootJoy's product line.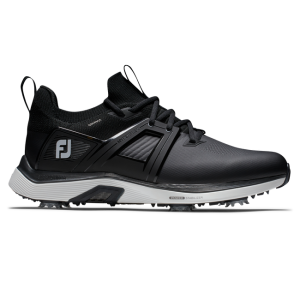 HyperFlex Carbon golf shoes for men are specifically tuned for the modern golfer athlete. Hyper powered with a custom molded carbon fiber plate to stabilize your swing and maximize energy transfer.
HyperFlex Carbon features "tuned for walking cushioning", added ankle padding, and an innovative, breathable, waterproof performance knit upper for all day comfort, so you can play at the highest level.
Most importantly, these shoes are comfortable, courtesy of FootJoy's Ortholite® Impressions FitBed® which provides immediate step-in comfort and molds over time for a truly custom-like fit.
FootJoy warrants that this golf shoe will be 100% waterproof in normal use for two years (U.S. Warranty).
$199.99                  https://www.footjoy.com/hyperflex
Callaway TruTrack Golf Balls
Callaway's new Chrome Soft USA TruTrack Golf 4-piece balls are following suit. Chrome Soft is longer through the bag, while providing signature soft feel that golfers love.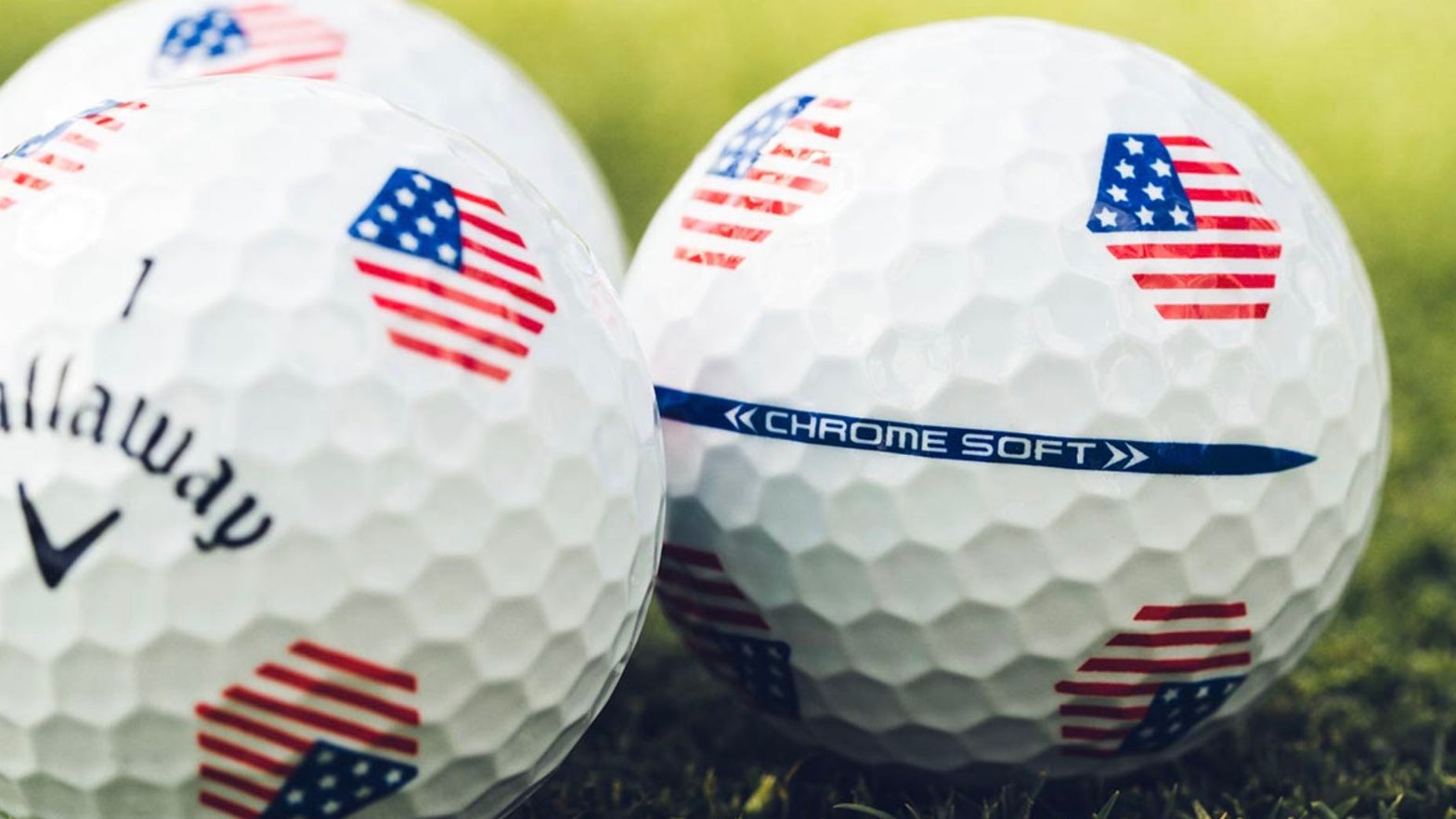 Chrome Soft is designed for a wide range of golfers who want outstanding feel, excellent distance, and incredible forgiveness.
Key performance characteristics include Callaway's signature Chrome Soft feel, more distance off the tee, low spinning iron shots, and a high level of greenside control.
By combining the best of both the popular Callaway Truvis and Triple Track alignment technologies together, Callaway makes the Chrome Soft golf balls even easier to align on the greens.
The ball features a Hyper Elastic SoftFast Core for Tour level speed, spin, and control through the bag. The other great feature of the ball is the new Tour Aero design which imparts consistent ball flight.
With TruTrack, the next advancement visual technology is here to stay. TruTrack combines the best elements of Truvis and Triple Track for enhanced roll feedback, visible spin, and alignment. Each of these benefits is provided in a new hexagon shape with a USA design for even more feedback that you can see on your golf ball.
Available in 3 models: Chrome Soft, Chrome Soft X, and Chrome Soft X LS
$49.99 per dozen
FYI: Callaway's Paradym clubs has taken the industry by storm. The wins on the Tours garnered by Callaway in 2023, outdistances its competitors by a wide margin. Jon Rahm, the World #1 golfer is proving that the Paradym Driver is the best driver in the market currently.
Callaway's Coronado V3 SL Shoe – As comfortable as it looks!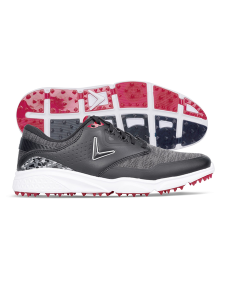 Versatility and good looks are the name of the game with the Callaway Coronado V3 SL golf shoes.
Made of 60% Polyurethane and 40% Nylon, these shoes are ideal for playing in changing weather conditions,as  these men's golf shoes have waterproof uppers crafted from lightweight performance mesh and durable microfiber leather.
For support and cushioning, they have ForgedFoam™ midsoles and molded PU insoles underfoot.
The waterproof golf shoes have spikeless outsoles that provide traction on a wide variety of surfaces and won't tear up the grass or scratch floors. The CounterLok™ heel and lateral-side stabilizers provide valuable support, while the Opti-vent™ mesh liners allow for cooling airflow to help manage excess heat and moisture.
$139.95                               www.callawayapparel.com
SQAIRZ SPEED BOLD Shoes
SQAIRZ is the fastest growing golf shoe brand and the first golf shoe designed to increase distance, balance, stability, and speed. SQAIRZ's patented square toe box design, spike positioning, specially placed comfort padding, Sta-Put laces, and other performance innovations have demonstrated how they have improved golfers' positioning, biomechanics, comfort, balance, and stability.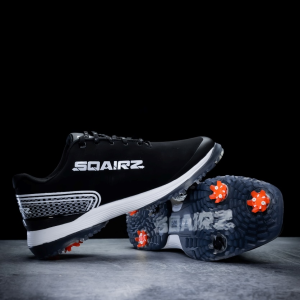 SQAIRZ provide your foot with enough space for your toes to spread naturally. All other golf shoes angle your toes to the center of the shoe, reducing balance and stability.
These innovations help golfers to consistently achieve greater accuracy, as well as increased ground force connection and swing speed for greater distance.
Talk about "disruptors" in the golf shoe business, and SQAIRZ will always be mentioned immediately. Created by Robert Winskowicz and endorsed by Sir Nick Faldo, PGA Tour player Wes Straka, and a host of top rated golf coaches, these shoes are, especially the new SPEED BOLD shoes, one of the most comfortable golf shoes available. If you are a walker, these shoes are going to make your round that much more enjoyable.
SQAIRZ's innovative SPEED BOLD design solves the problem and integrates the midsole, outsole, and heel stabilizer to provide the structure needed to channel the ground force and optimize swing speed. The BOLD offers the same game changing performance with a sleeker look and a premium single-piece upper design.
There is so much to be said about their support, toe box, and stability. They are really remarkable. These shoes are without a doubt the most comfortable and supportive shoes I have ever used!
All 6 models have Sta-Put laces and Pivix Softspikes and come with a 30-day money back guarantee.
$199.97                 www.sqairz.com
XXIO PRIME 12 DRIVER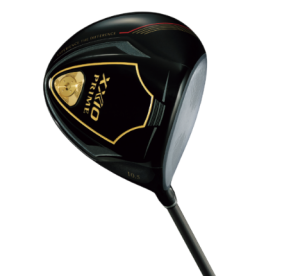 There are two major players in the lightweight, high-balance point golf clubs made exclusively for moderate-swing speed golfers.
One is Honma, of whom I have previously written about, the other is back with the all-new XXIO Prime 12 family of clubs.  These remarkably lightweight woods and irons are precisely designed to deliver long, straight distance in a premium, luxurious package.
Each Driver face is made of Super-TIX® 51AF Titanium, an incredibly strong, yet lightweight alloy for thinner faces that increase face flex and ball speed on all your shots
Plus XXIO's Prime 12 Driver features Rebound Frame technology. Rebound Frame is an alternating pattern of stiff and flexible zones within every XXIO Prime club that focuses more of your impact energy into the golf ball. It increases ball speed and distance on every strike.
Most traditional drivers use a flexible face that compresses and decompresses at impact to propel the ball forward, the Rebound Frame adds a second layer of flexibility supported by two structurally rigid zones in the frame. This allows the face and frame to act like dual springs, creating a multiplier effect that transfers more energy from the club head to the golf ball.
By refocusing energy that's ordinarily lost, the Rebound Frame is faster on every strike, especially center-face impacts.  In fact, XXIO claims that even the most flexible driver face cannot transfer as much energy as Rebound Frame's dual Flex Zones.
The Rebound Frame works in unison with XXIO's thinnest cup face weld to date, pushing flexibility to the limit.  Consequently, the new Prime 12 produces higher COR, the measurement of ball speed, over a 33% larger area of the face in comparison to the previous model.
XXIO uses a proprietary casting technique and low-density titanium to craft the Prime 12 with an extremely thin body.  This unique design saves weight, permitting a larger club head, a longer tail, and, thus, a more rearward sole weight.  Shifting weight farther back drastically reduces potential twisting of the face on off-center strikes, thanks to improved MOI and stability.
The Prime 12's ActivWing aerodynamics with an innovative airfoil shape, similar to those used by an aircraft, ensures stability in the air.  In the first half of the downswing, ActivWing maintains head alignment, steadying the club face and dialing up the power.  During the second half of the downswing and through impact, ActivWing keeps the club face in its optimal zone, making it easier to strike the sweet spot regularly.
Unlike many manufacturers, XXIO engineers the entirety of their clubs, all the way down to the grips.  XXIO is famous for using ultra-premium lightweight components designed for players with moderate swing speeds.
Proprietary Weight Plus Technology positions mass at the butt of the grip, guiding the backswing to the ideal position, stabilizing the downswing, and synchronizing with the 12's ultra-light head to boost club head speed.  XXIO specifically develops its lightweight shaft to perfectly complement the Prime 12 lineup using NANOALLOY and TORAYCA, two advanced materials reserved for only the finest and most expensive shafts.
Additional features of the XXIO Prime 12 Driver are:
A Draw bias bulge design with face curvature produces a right-to-left shot shape and corrects spin on mis-hits to help find more fairways
Weight Plus technology places extra weight at the butt of the shaft to stabilize the club path, reduce the amount of force required to lift the club, and generate a more powerful downswing
Premium quality SP-1200 shaft made of high-performance carbon fiber and advanced resin is exceptionally lightweight with a cutting-edge combination of strength and flexibility
Stock Shaft: XXIO Prime SP-1200 (35g)
Stock Grip: XXIO Prime Weight Plus (26.5g)
$899.99                               https://www.us.dunlopsports.com              
Each year we are exposed to so many great new golf products and this year is no exception. Whatever you choose, any one of these products will make Dad extremely happy and grateful.
Barry Lotz, J.D., Ph.D. is the director of the Professional Golf Teachers Association of America. Visit www/facebook.com/PGTAA to see all the latest mental strategies, travel and equipment reviews. Currently he also works with between 10 to 12 PGA Tour players on the mental side of golf.
He is a member of the Golf Writers Association of America and serves both as a Consultant and Mediator to the golf industry. He is also the author of numerous books, including "333 Best Web Sites for Golfers" and his previous book, "How to Build Business Relationships through Golf",  is still in the Top Ten Golf Business Book's best seller list. His current book, "The Right Mind for Golf", is now in its 13th reprint is available on Amazon, and at the Torrey Pines Golf Course.  Just released on June 1st, is his new book, "The Right Mind for Putting", is now available at https://www.pgtaa.com/product-category/books-and-apparell/.