Honma BERES Black – THIS LESSER KNOWN AND HIGHLY UNDERRATED GOLF DRIVER IS ALMOST PERFECT
2023 brings no shortage of new drivers to try out this year. The Callaway Paradym, Titleist TSR3, Taylormade Stealth 2, PING G430 are all good drivers, BUT no driver holds a candle to the Honma BERES Black!
BERES Black offers sleek elegance that stands out on the course, plus Honma's timeless design. Its beautifully shaped driver efficiently transfers energy and generates consistent ball flight. Each clubhead is coated with a jet-black PVD process for a striking finish.
While Mizuno, Miura, and PXG may currently be better known in the golf domain as premium club manufacturers, NOTHING manufactured today compares to Honma's Black BERES clubs. Five stars should really be 10 stars as this series of clubs are nullus secundus – second to none compared!
In a nutshell, the driver features triple sole slots and an L-Cup face which aims to provide powerful initial ball speed. The optimal CG (center of gravity) design provides for a high trajectory, low spin, forgiveness, and distance, while the draw bias helps correct fade tendencies associated with slower swing speeds.
What really provides the power to this driver is Honma's original shaft – the ARMRQ MX. These shafts are made in Japan using the highest quality materials at Honma Golf HQ in Sakata. They feature proprietary designs using NEW 10 Axis Sheet Metal Hybrid Armour Technology (4-Axis Aluminum and 6-Axis Carbon) to deliver Counter-Balance designs for added clubhead speed, along with industry-leading Toray Composite T1100G Carbon.
Lofts are available in 9.5 °, 10.5 °, and 11.5 °, each with a lie angle of 60 ° and a 46" length. The ARMQ MX Black shafts are available in R2, R, SR, and S and feature a mid-low kick-point and an average torque of 7.5 °. The driver's GR Honma Rubber 41GD grip weighs 41 grams in an M60 size.
$1149.00 https://us.honmagolf.com/
The Bushnell Ion Elite GPS Watch
The pages upon pages of reviews about just how great the Bushnell Ion Elite watch are true.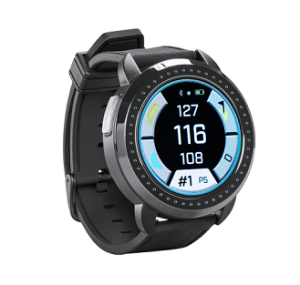 Of all the watches I have tested, this is the one watch that outperforms every other GPS watch on the market. It is so fully feature laden that it is like having a desktop or iPad strapped on your wrist.
From the super easy-to-read Color Touchscreen, to the HoleView and shot planning feature, to the weight and comfortableness, it has no match! The HoleView screen allows you to view the layout of the hole, and with Shot Planning on, you can get precise distances to any point on the hole.
Another USP (Unique Selling Proposition) is that the Ion Elite is the first watch to feature Bushnell Golf's patented Slope Technology.
What is very cool is the green view, with a movable pin placement which allows the golfer to see the shape of the green and adjust for the location of the pin for heightened accuracy.
Another feature I really like is the ability to move forward or backwards to a hole to verify information, or to simply let the Ion Elite auto hole advance from hole-to-hole without pushing any buttons. The shot distance calculator, scorekeeping and auto course recognition, just make this watch so very enjoyable to use.
It is exceptionally easy to charge, with its magnetic USB charging cable that lasts easily for two rounds.
$199.99 https://www.bushnellgolf.com/products
Garmin Approach S62, Premium Golf GPS Watch, Built-in Virtual Caddie
Garmin has recently announced the release of the Garmin S62 which is an upgrade on the existing S60 Approach watch.
The 1.3" easy-to-read color touch screen with a scratch resistant ceramic bezel and interchangeable QuickFit bands, still has the same look and feel of the S60. Garmin has added two on screen buttons that let you toggle through screens, various hazards and Green and course view. Battery life: up to 20 hours in GPS mode, 14 days in smartwatch mode.
Another great feature is that you can target any position on the course with a tap on the screen, and the compass feature will still show you the distance and direction to the green at all times.
I personally enjoy the Pulse Ox and the real-time heart rate monitoring. Additionally, the watch also still allows you to pick a manual pin position so you can change the pin position to where it actually is. This can be a big benefit when selecting your club for approach shots.
The S62 is like a personal golf caddy. The watch gives you distances to the front, middle and back of the green, and it will show you various layup options for each hole.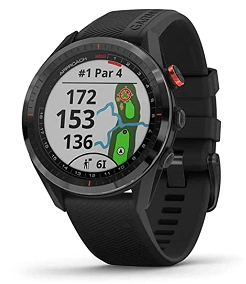 Another huge benefit we found is the versatility, because not only does it work on the course, but also off it. There are also loads of fitness tracking options, such as allowing you to connect to your phone via Bluetooth, and so allowing you to get smart notifications like text, emails and calls, directly to the watch.
The S62 has 41,000 courses worldwide that will load automatically once you arrive. A primary and useful feature of the S62 is its ability to take the slope into account for your distance to the green.
$499.99 www.garmin.com
SkyCaddie® LX5 GPS Watch with Touchscreen
Using the same "next-generation" technology found in the award-winning SX family of rangefinders, the new SkyCaddie® LX5 delivers – in a wearable – all the information you need to play your best golf with a simple, intuitive interface, powered by an ultra-fast multi-core processor, simple touch screen, and the most accurate course maps in the game. The SkyCaddie LX5 is the simplest way to get yardages you can trust. An eagle's view of the hole presented in stunning graphics allows you to select the right club and plan your next shot, just like a Pro!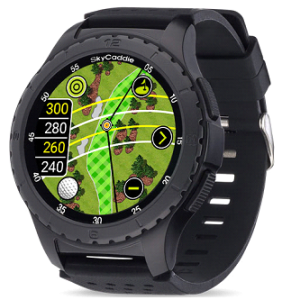 The new SkyCaddie LX5 offers the industry's largest color touch screen at 1.39 inches. Full HD HoleVue® with stunning imagery provides the best graphics in a golf wearable.
The SkyCaddie LX5 comes preloaded with over 35,000 ground-verified, error-corrected course maps.
Zoom and pan to get all the details you need to avoid trouble and save strokes. A responsive and easy-to-use interface makes navigating during play almost touch free. Just pan the fairway image up and down to focus on any area of the hole and move the cursor to dial in distances to critical targets.
The SkyCaddie LX5 is light-weight and comfortable to wear. Its modern feel and handsome looks make it a versatile watch for use both on and off the course. The watch is equipped with some of the same features you've come to expect from modern fitness bands: heart rate monitor, step counter, step goals, stopwatch, and timer.
Customize the watch face with the analog or digital option that suits you. The LX5's brilliant AMOLED display allows you to see information on the screen in direct sunlight, and its ruggedized water-resistant casing can handle any weather.
$299.95 includes a 3-year SkyGolf 360 Pro Plan or $349.90 for a 5-year Pro Plan www.skygolf.com
TAG Heuer Connected Calibre E4 Golf Watch
TAG Heuer Connected Calibre E4 Golf Edition watch expertly combines Swiss watchmaking and innovative technology to track and improve your game on and off the course.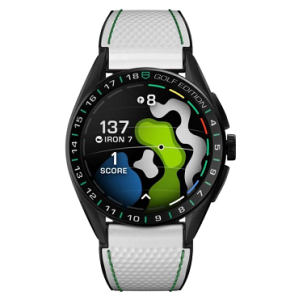 Through highly-detailed 2D and 3D mapping technology, you have access to up-to-date maps of more than 40,000 courses around the world.
A simple glance at your wrist will show you the distance to the green and hazards on the course, the distance of your shot, and a smart scorecard.
Use this watch as your own personal caddy as you analyze courses, pick the right club, evaluate the accuracy of your drives, and review other key indicators that are stored as statistics.
Measure your shot distance with amazing accuracy, then review your average distance with each club and evaluate the accuracy of your drives. With the "Driving Zone" feature, visualize previous shots you made on that hole to target where you perform best.
Not only functionally on par, but fashionable as well, this sporty watch features a 45mm ultra-lightweight black titanium case with matte finish and a black ceramic bezel. The bezel boasts the wording "Golf Edition" and 18 holes markings etched along the top.
Completing the look is a white rubber golf pattern strap with contrasting green stitching and a ball marker integrated into the buckle. An additional black rubber strap, easily changed, offers extra versatility.  It is water resistant to 50 meters.
In addition to being designed for performance on the greens, this Smartwatch is ready for everyday life with features such as notifications, weather, Google Pay, music control, and GPS.
$2,650.00 https://www.tagheuer.com/
Tyson Lamb Custom Putters
Lamb Crafted is a family owned, Texas based machine shop, specializing in custom products for the golf professional, collector or amateur. They make outstanding putters.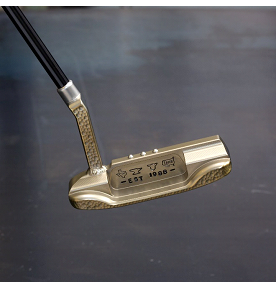 More importantly, these collector items can only be purchased via a lottery! This is not a mass production putter factory. Craftsmanship and attention to detail are paramount to Tyson Lamb.
His finished putters have smooth edges and soft lines, unlike those hard, sharp lines you see put out by milling machines. This is why you pay the big dollars – $1250 to $2,000.00- the price being dependent on just how much you want as to stampings and finish options on your putter.
Any custom work takes time, and because of high demand and limited production capacity for Tyson's putters, your wait will more likely be months, rather than weeks.
Checking their web site inventory of putters, there are none displayed and therefore none for sale! Quite unusual in the putter market.
Their different modes as seen on https://www.lambcrafted.com/pages/gallery , are hand-crafted works of art that perform surprisingly well on the greens.
Cleveland Launcher XL HALO Hybrid Irons
If you are looking for irons that make your life easier, the latest HALO irons are your answer.
I personally have been enamored with the HALO ever since its introduction many years ago. I love the way they "launch" the ball.
Although these oversize hybrid-style irons might not appeal to everyone, especially more skilled golfers, the technology can benefit just about anyone because the size and hollow body allow weight to be placed where it's needed most—low and back to get the ball launched.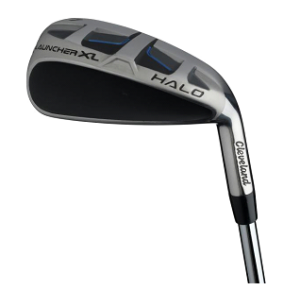 The Launcher XL Halo uses AI Design that produces variable-thickness patterns milled into the back of each face to provide added ball speed, while removing mass, resulting in maximum forgiveness across the face.
The irons are huge and they are hollow compared to other irons on the market, BUT, they perform exceptionally well, especially if you have struggled with longer irons previously.
The Launcher XL Halo's explosive ball speed will increase your distance on every shot, even when you miss the sweet spot. Expect both a bona fide Hybrid performance from every iron and at least 5-10 yards additional distance per iron.
The HALO Hybrid irons are so good that they received Golf Digest's 2023 Hot List Gold Medal!
$114.00 per club, or $900.00 for a seven-piece set and $800.00 for a seven-piece set in steel. https://us.dunlopsports.com/
Barry Lotz, J.D., Ph.D. is the director of the Professional Golf Teachers Association of America. Visit www/facebook.com/PGTAA to see all the latest mental strategies, travel and equipment reviews. Currently he also works with between 10 to 12 PGA Tour players on the mental side of golf.
He is a member of the Golf Writers Association of America and serves both as a Consultant and Mediator to the golf industry. He is also the author of numerous books, including "333 Best Web Sites for Golfers" and his previous book, "How to Build Business Relationships through Golf", is still in the Top Ten Golf Business Book's best seller list. His current book, "The Right Mind for Golf", is now in its 13th reprint is available on Amazon, and at the Torrey Pines Golf Course. Due out in June is his new book, "The Right Mind for Putting".