Without any fear of contradiction, Back Nine Greens is the premier company for artificial turf putting greens.
Putting greens are often used by golfers to prepare for upcoming tournaments, or to improve their putting skills during the off-season. They may also be used by golf instructors to teach putting techniques and to help golfers develop better touch and feel on the greens.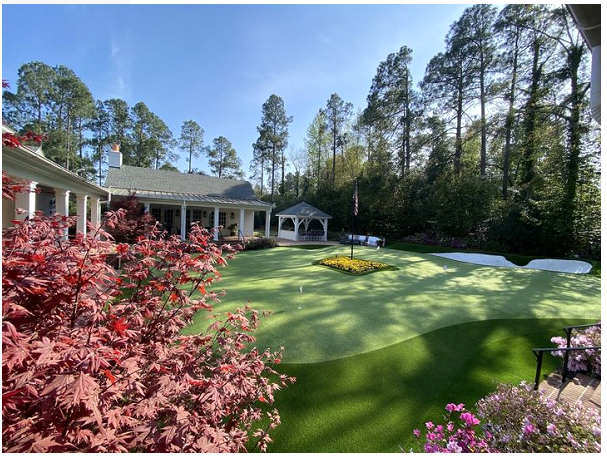 Since 1997, Back Nine Greens has been the premier luxury golf greens construction company, especially in the Palm Springs area aka, Coachella Valley.
With over 10,000 projects completed, their experience and brilliant designs are second to none. So much so, that I personally chose Back Nine Greens for my own backyard putting green. Back Nine Greens owner, Dominic Nappi, and his general manager, Marco Castellon, with a team of expert technicians, were absolutely a dream to work with. Installation was completed in just one day!
Notable projects and endorsements include PopStroke, Top Golf, Jim Nantz, Ken Venturi, Steve Garvey, Dave Stockton, Mark Wahlberg, Cindy Crawford and Josh Allen to name just a few.
PopStroke, is a technology-infused golf-entertainment concept, featuring professionally designed artificial grass putting courses and top-notch food and beverage in Port St. Lucie, Florida. Tiger Woods partnered with PopStroke in October 2019.
Jim Nantz, who lives at Pebble Beach, replicated Pebble's 7th hole in his backyard, and it is on the bucket list for visiting celebs and players to play the hole at his house.
On January 15, 2013, Back Nine Greens partnered with the world's largest manufacturer of synthetic turf, to answer the high demand for backyard putting green systems. It's reputation for innovation in the synthetic turf industry and excellence in production and manufacturing has enhanced the business greatly.
Many of the local cities in the desert, such as Palm Desert, Indio and Palm Springs offer rebates for artificial turf rebate programs ranging from $2 to $3 dollars per square foot.
Backyard putting greens are becoming increasingly popular among golf enthusiasts who want to practice their putting skills in the comfort of their own homes. Installing a putting green in your backyard can provide numerous benefits, including:
Convenience: With a backyard putting green, you can practice your putting skills anytime you want, without having to leave your home.
Customization: You can design and customize your backyard putting green to meet your specific needs and preferences, including size, shape, and level of difficulty.
Health benefits: Putting is a low-impact exercise that can improve your balance, coordination, and cardiovascular health.
Increased home value: Installing a backyard putting green can add value to your home and make it more attractive to potential buyers.
When considering a backyard putting green, you'll want to think about factors such as the size of your backyard, the type of grass or synthetic turf to use, and any additional features such as bunkers or chipping areas. It's also important to consider the maintenance requirements, as natural grass greens require regular watering and mowing, while synthetic greens require periodic cleaning and brushing.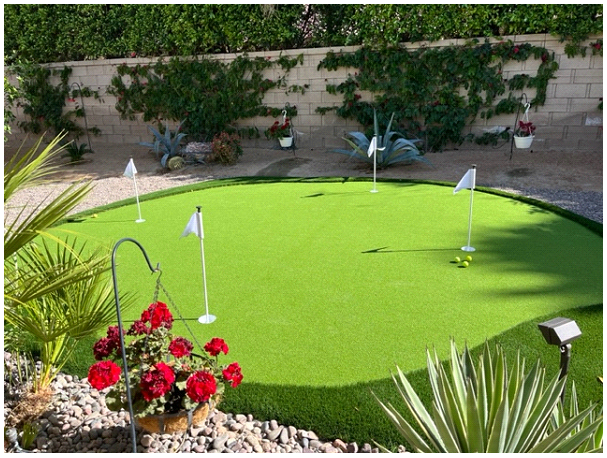 Artificial grass has many other uses that Back Nine Greens has mastered, especially pet grass, playground turf, apartments, day care, schools, sport turf, commercial, roofs and desks for high rises and condos, and perfect putting greens and tee lines for country clubs and golf facilities.
Back Nine Greens USP (Unique Selling Proposition) is that they are the leaders nationwide for putting greens. They are fully bonded, professional, experienced, reliable and trustworthy. They also have an excellent maintenance and warranty program. All Back Nine Green's products have a 15 year warranty against color fading, turf integrity and product construction.
Prices for a back yard putting green will run between $18 and $30 per square foot. Installing bunkers add cost to the project.
I love practicing on the green. Together with added slopes, straight shots marked out, four strategically placed hole cups, my putting has really improved! The night light option is available for insomniacs!
www.backninegreens.com 1.844.527.6377
Barry Lotz, J.D., Ph.D. is the director of the Professional Golf Teachers Association of America. Visit www/facebook.com/PGTAA to see all the latest mental strategies, travel and equipment reviews. Currently he also works with between 10 to 12 PGA Tour players on the mental side of golf.
He is a member of the Golf Writers Association of America and serves both as a Consultant and Mediator to the golf industry. He is also the author of numerous books, including "333 Best Web Sites for Golfers" and his previous book, "How to Build Business Relationships through Golf", is still in the Top Ten Golf Business Book's best seller list. His current book, "The Right Mind for Golf", is now in its 13th reprint is available on Amazon, and at the Torrey Pines Golf Course. Due out in June is his new book, "The Right Mind for Putting".